Clinical Benefits of MLS Laser Therapy:
MLS® Laser Therapy helps resolve numerous pathologies of the skeletal and muscular systems, such as periarthritis, epicondylitis, lumbago, dorsalgia, and cervicalgia, and also where an intense bio stimulation effect is necessary, such as in the case of superficial injuries.

Just 6-10 applications are sufficient to obtain excellent results, both on the pain and the inflammatory processes. 10 applications positively affect chronic conditions.
Reduction of response times, and therefore overall treatment times, distinguishes MLS Laser Therapy from traditional laser therapy with reciprocal advantages for both the operator and the patient.
MLS Laser Therapy Laser Therapy has been proven to be very effective for acute injuries and chronic conditions. The key to success with MLS Laser Therapy is proper diagnosis.
MLS Laser Therapy is ideal for:
| | |
| --- | --- |
| • Pain Management | • Soft tissue trauma |
| • Plantar Fasciitis | • Joint pain |
| • Achilles Tendonitis | • Muscle strains |
| • Neuropathy | • Arthritis |
| • Sprains / Strains | • Wound healing |
| • Post-op healing | • Tendonitis |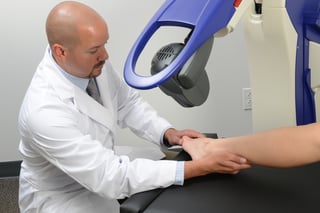 Download Our Infographic:
Creating New Revenue Streams with
MLS ® Laser Therapy